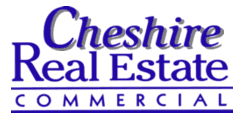 Our listings change frequently, so please contact us about current listings.
Please email info@cheshirerealestate.com with your commercial real estate needs.
Thank You
1490 Highland Ave - Cheshire, CT

Business/Industrial Condominium complex. Total 26,365 Sq. Ft. 11,305 office space with 9 ft. ceilings and 15,060 Sq. Ft. warehouse with 18 ft. ceilings and 5 Loading Docks. Separate IT room with own A/C. Nearly new 5-year old building. Sewer, water, & gas. Rent: $8.30 per sq. ft. plus NNN. Taxes: $46,321.70 per year. Condominium Fee: $1,728.18 per mo. Insurance: $148.08 per mo. Excellent location on Route 10 in Cheshire. One mile from I-691.

402 Highland Ave - Cheshire, CT

2 Office Spaces Available on the 2nd Floor.

368 Sq. ft. - Rent per month $475.00 per mo. plus utilities.

640 Sq. ft. - Rent per month $875.00 per mo. plus utilities.

230 Sandbank Road - Cheshire, CT

Distribution/Truck Terminal space located off Rte. 10 North end of Cheshire. 8,280 sq. ft. of warehouse/terminal space & 1,760 sq. ft. of office. Ceiling heights 12', dock space with 27 overhead doors. Lease $7,000.00 per month.

10 Diana Court - Cheshire, CT

6,200 Square feet of Office, 13,445 sq. ft. of Warehouse space 18-22 ft. ceilings in warehouse. Tenant responsible for CAMS, water, sewer, snow removal, gas, electricity, trash and 100% of taxes (currently 1,933.49 per month). Lease rate 7.27 per sq. ft.
.


http://www.Realtor.com
---

For a more complete list of our properties for sale in Central Connecticut
please feel free to contact us!


info@cheshirerealestate.com